Grand Artistic Events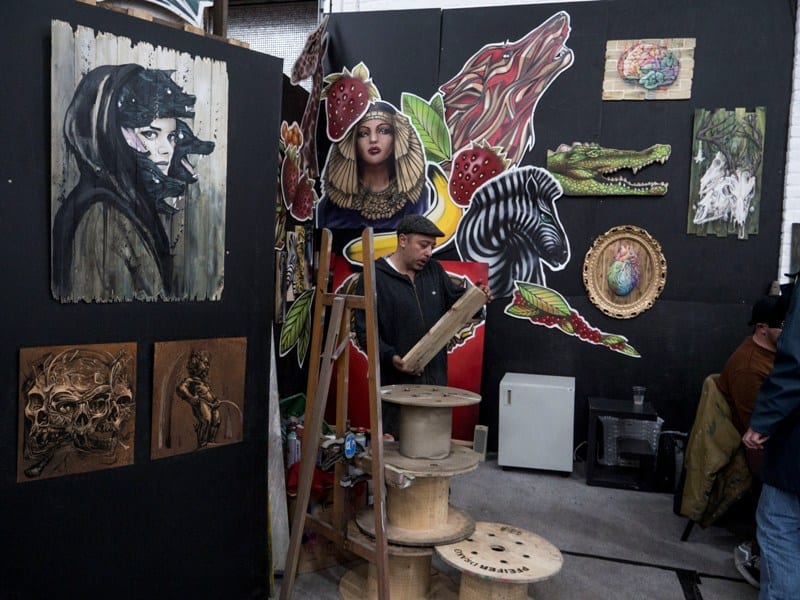 The peak season to experience the creative spirit is from autumn 2018 through spring 2019
Dec 1st: Nuit des Arts (Night of the Arts) as well as the Braderie de l'art (Art Market), Marché des modes (Fashion Market), Open Roubaix, the Picasso-Di Rosa exhibition, the Cécile Borne exhibition at La Manuf and the Petits Pas (Little Steps) festival
Feb 1st: Open Roubaix
April 7th: Marché au Tissus (Fabric Market) and Journées européennes des Métiers d'art (European Days of Craftspeople), the Guillaumet/Jules Adler exhibition at La Piscine, Festival Le Grand Bain (The Deep End Festival), and the Giacometti exhibition at LaM
May 17th-19th: Nuit des Arts, and Le Printemps algérien (The Algerian Spring) at La Piscine, Eldorado at Lille 3000 and the Giacometti exhibition at LaM
Spotlight on La Nuit des Arts (May 17 – 19,2019)
La Nuit des Arts—which actually spans three days—is an initiative of the City of Roubaix: twice a year, for the past ten years, forty venues around Roubaix, each one very different from the next, open their doors to showcase a wide variety of art: privateworkshops and studios, museums, restaurants and bookshops serve as venues forpainting, drawing, sculpture, ceramics, photography, art installations, and more.
The May edition, which runs in conjunction with Nuit des Musées (Night of the Museums), also coincides with the Comic Book and Graphic Arts exhibition,whereas the December edition, held on the first weekend of the month, coincides with la Braderiede l'art and the Marché des modes.
Spotlight on La Braderie de l'Art (May 18–19, 2019)
Dreamed up in 1991 by the Art Point M collective, la Braderie de l'Art is a unique event held at La Condition Publique: a 24-hour marathon in which graffiti artists, illustrators and various other makers and creators put on a live public "show", using reclaimed objects and materials. The finished pieces are sold on the spot, ranging in price from €1,000 to €3,000.