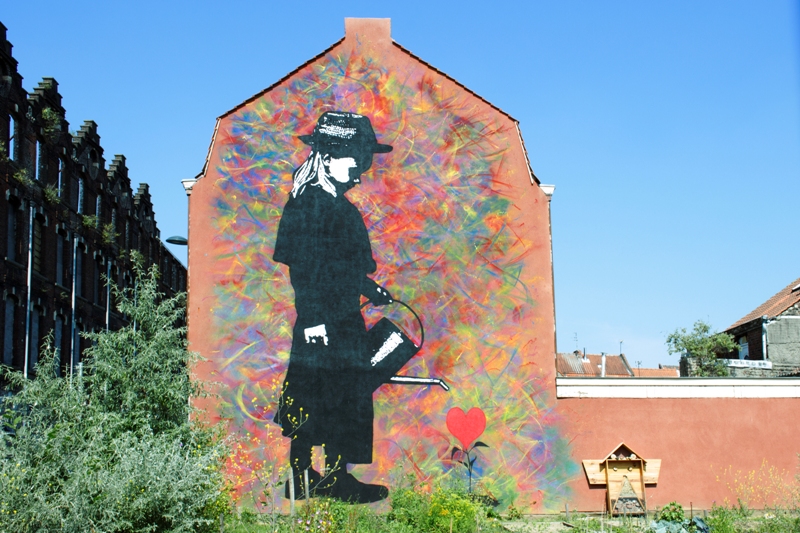 Roubaix, Street Art City
Between the once-abandoned industrial zones and plethora of bare brick walls, street art has flourished thanks to Roubaix's open urban canvas. The launch of #XU in 2015, an event celebrating urban culture, has further fanned the flames of this artistic movement, adding many new murals throughout the city.
But it was the exhibition/event "StreetGenerations, 40 years of urban art", back in the spring of 2017 at La Condition Publique, which really shone the spotlight on Roubaix's streetscape : rues and alleyways doubling as open-ceiling galleries.
Street Art Spots:
> Around La Condition Publique : The "Street Generations" exhibition, which put 40 years of urban art on display at La Condition Publique in the spring of 2017. Not just an indoor affair, the event also hosted rooftop displays featuring the work of internationally renowned artists including C215, Tarik Benaoum, Ludo, Ted Nomad, Vhils, Rémi Rough, and Jef Aérosol. The idea was to simulate the Roubaix streetscape high above the ground.
>The "I Love Roubaix" Street Art Map, published annually in conjunction with #XU, highlights different decorated spots across the city. For the 2017 edition, the editors included a lexicon to help decipher thelanguage particular to this art form. The autumn 2018 edition will feature an updated urban route.
JonOneand the local sphere:
JonOnewas born in New York, where he honed his graffiti skills on the city's A line subway route and ran in some of the same circles as the legendary Jean-Michel Basquiat. Today, his art pieces sell for upwards of €25,000, serve as inspiration to other creative powerhouses like Agnès B, and have led to collaborations with influential brands such as Guerlain.
So why did this world-famous artist choose to install his 305 m2-studio in Roubaix back in 2017 ?
"People are smiling here, they are hungry for creativity, they have good energy. There's soul here."
It was here that JonOne would find his sidekick of the last few years, a Roubaix artist called Mikostic.
Roubaix - where the local and metropolitan scenes frequently criss-cross, through the work of artists such as Des friches et des lettres, Benjamin Duquenne, Lem, Mr VOul, RémiDif, Pat le Sza, Isham One, Mister P, and many others.